Magpie Lane
Oxford Ramble track 1
'I heard a Man whistle this Tune in Magpey Lane Oxon Dbr. 22 1789. came home and noted it down directly'
John Baptist Malchair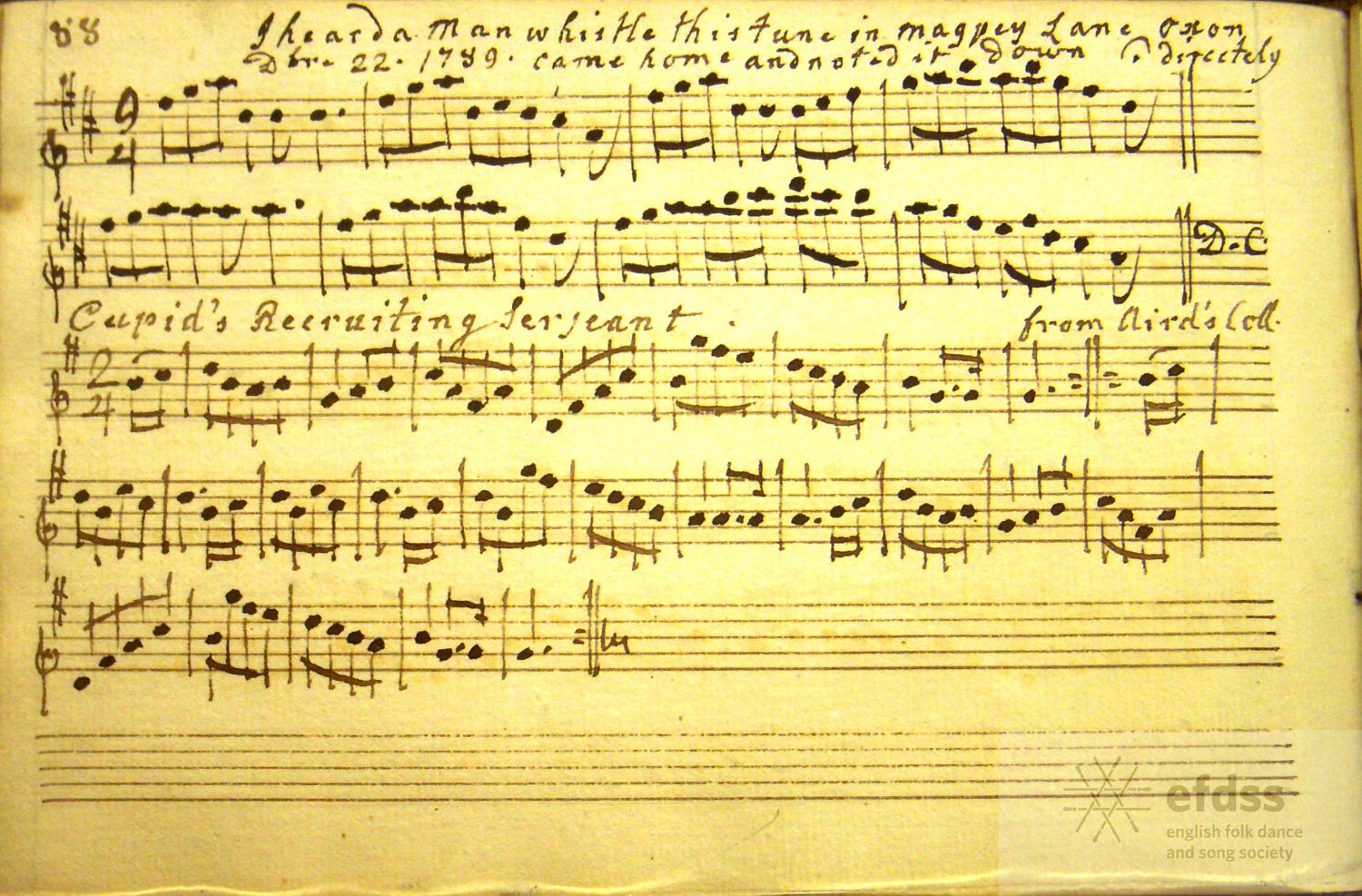 We first learned the tune from Dave Parry, my melodeon-playing colleague in the dance band Geckoes. He had it from a book on eighteenth century music, and I believe it was Dave who christened the tune "Magpie Lane". Malchair's notation of the tune, in the manuscript 'Vol 3 The Third Collection of Tunes' can now be viewed via the EFDSS Gallery of Historic Dance and Tune Books.
I've not come across a 9/8 version of the tune from any other source, but the tune Murphy Delaney, although in a different time signature, would appear to be closely related.
Magpie Lane as collected by Malchair

ABC file magpie_lane.abc
MIDI file magpie_lane.mid
Murphy Delaney from Shropshire musician John Moore


ABC file murphy_delaney_jmoore.abc
MIDI file murphy_delaney_jmoore.mid
Murphy Delany from O'Farrell's Pocket Companion for the Irish or Union Pipes, vol. 1 (c.1805)


ABC file murphy_delany_ofarrell.abc
MIDI file murphy_delany_ofarrell.mid
The Fiddler's Companion provides details of various Scottish and Irish versions of Murphy Delaney. There's also two English versions from Wyresdale in Lancashire:
from the Winder MSS, 1789 via Richard Robinson's Tunebook
from the H.S. Jackson MSS via the Village Music Project
The first track on our first CD, it starts with Carol Turner, Heather Bower and Tom Bower on recorders, before the rest of the band join in.
Watch Video
Magpie Lane / As I walked through the meadows / First of May
The start of our very first concert, 3rd May 1993, Holywell Music Room, Oxford.